Aquaculture pond liner is defined as a very low permeability geomembrane sheet placed in contact with soil. Aquaculture pond liner is manufactured in industrial plant and shipped on site in rolls prior to being installed and seamed to obtain a continuous impermeable layer. Welding or adhesive techniques are used to bond the aquaculture pond liner sheets together. BPM aquaculture pond liner is made of finest quality high density polyethylene (HDPE) with specially formulated, virgin polyethylene resin, combined with specified quantity carbon black, antioxidant, anti-aging agent and UV resistance components. Aquaculture pond liner has proven to be far more cost effective, environmentally safe, excellent durable, chemically resistant, fast deployment and easy transportation, which make BPM geomembrane HPDE liner as ideal products for aquaculture and agricultural applications.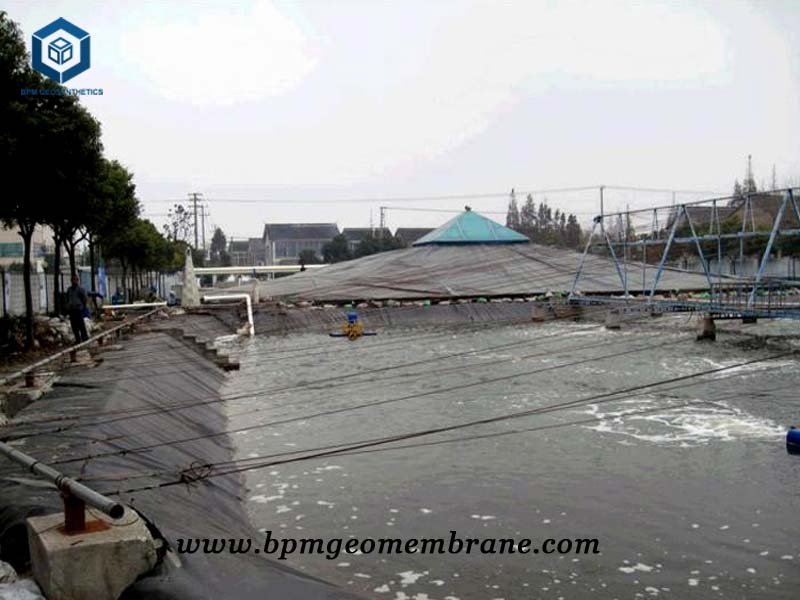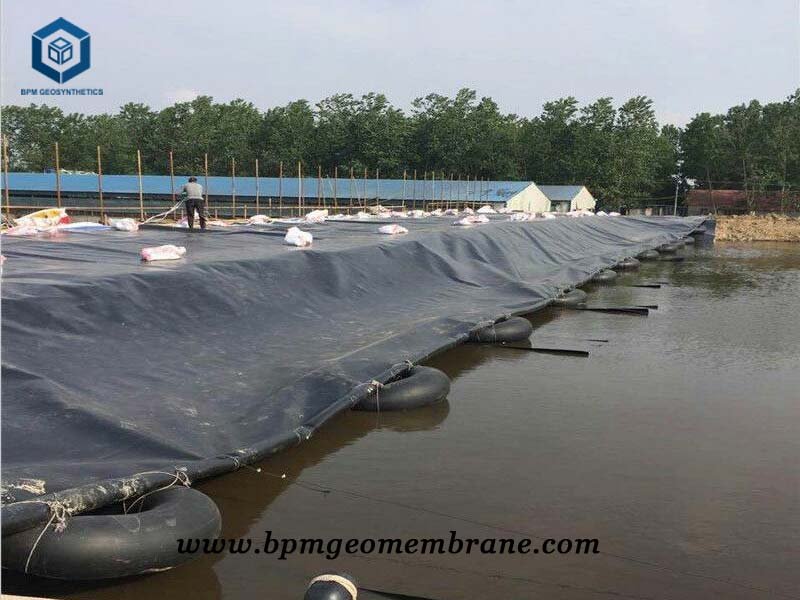 HDPE geomembrane liner for aquaculture can make the bottom of the pond completely separate from the water. Aquaculture pond liner has remarkable effect of anti-seepage, virus pollution and anti-microbial erosion. Aquaculture pond liner is also helpful to prevent the spread of bottom pathogens.  BPM Brand pond liner has the advantages of short construction period, convenient maintenance, low investment cost, good environmental protection and anti-seepage effect.
Our Sichuan customers inquired aquaculture pond liner for agriculture project. We have been communicating with our customers about pond liner specification, installation service and delivery time. Finally, we reached the agreement on 80,000 square meters of aquaculture pond liner products for the given project, and signed the contract. We finally determine the specifications and quantity of the HDPE pond liner products, and suggested BPM 0.5mm pond liner for the project.
Specifications of Aquaculture Pond Liner for Aquaculture project in Sichuan
• Total quantity – 80,000 m2
• Thickness– 0.5mm
• Each roll size – 7m×30m
About BPM 
BPM had provided many types of effective and state of the art geotextile, geomembrane and geosythetics products to over 36 countries. Our main innovative, high quality geosynthetics products include geomembranes, geotextiles, geocell, geosynthetic clay liners (GCLs), drainage boards, geogrids, etc. BPM brand geosynthetics had been certificated by the ISO9001, ISO14001,OHSAS18001 Soncap, SASO and BV certificates and passed the test of SGS and Intertek, etc.
BPM is also providing professional design and installation service. OEM and ODM are also available. If you have any questions or inquiries,  please fill and submit the following form, we will reply as soon as possible.