Farm pond liner is the HDPE geomembrane pond liner which is widely used for the impermeable lining system of aquaculture pond. The farm pond liner is made of premium virgin HDPE resin which is specifically  engineered for HDPE geomembrane liner production along with adequate carbon black, antioxidant, and stabilizers, etc. BPM brand pond liner has impermeable, superior mechanical properties and outstanding long-term resistance to chemical, ozone, oxidation, environmental stress crack, and UV radiation. These advantages make BPM geomembrane pond liner the most suitable for those exposed or non-exposed application such as landfills, biogas, reservoir, canal, aquaculture, infrastructure, portable water (NSF61 Certificated), waterproofing, mining, animal waste containment, etc.
Advantages of Geomembrane Pond Liner
Excellent chemical resistance
High UV Stress Cracking resistance

Lowest permeability

Excellent UV resistance

Outstanding stress crack capacity

Low cost and easy installation.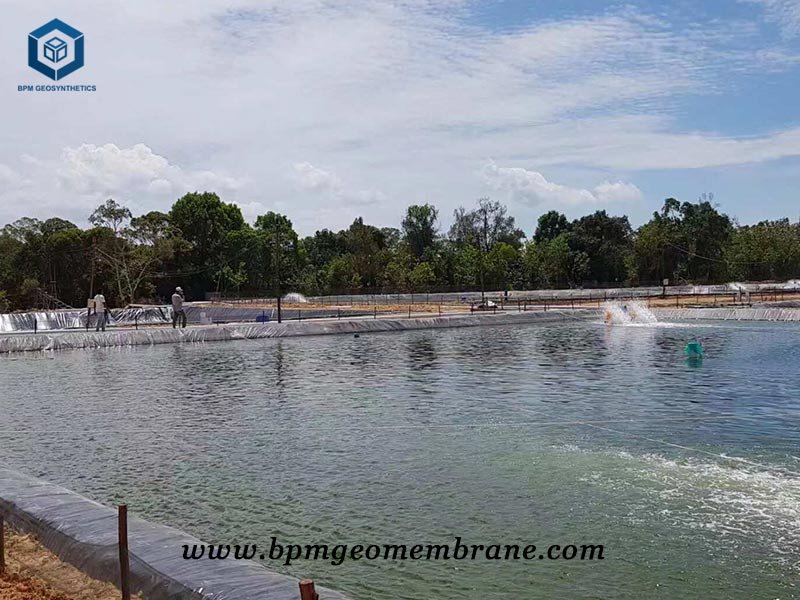 Our Ecuador customer called us for geomembrane liner product for his aquaculture fish farm project. We recommended 0.7mm HDPE geomembrane pond liner for fish farm when we got the application of customer. As  theprofessional geomembrane liner manufacturer,  we sent professional quotation sheet and more videos of welding geomembrane pond liner for reference by communication and negotiation. They placed the order about one 40HQ container HDPE farm pond  liner and one set HDPE liner welding machine once confirmed the price.
Specifications of Farm Pond Liner in Ecuador
Total pond liner quantity – 29,400 square meters

Pond Liner thickness – 0.7 mm

Each roll size 7m*280m
BPM is the professional geosynthetics manufacturer and exporter. Our main innovative, high quality geosynthetic products include geomembranes, geotextiles, geocells, geosynthetic clay liners (GCLs), drainage boards, geogrids, etc. BPM brand geosynthetic product had been certificated by the ISO9001, ISO14001,OHSAS18001 Soncap, SASO and BV certificates and passed the test of SGS and Intertek, etc. Our geosynthetic products have exported to over 36 countries. BPM geomembrane pond liner is proven to be the best choice with very competitive price for aquaculture fish farm. BPM is also providing professional geomembrane design and installation service. Please contact us for more detailed information at sales@bpmgeomembrane.com or fill and submit the below form.