HDPE dam liner is one of the more popular geosynthetic materials used in the construction of these plastic lined reservoirs. HDPE dam liner is prepared from ethylene by a catalytic process. BPM HDPE dam liner is the most widely used geomembrane in the world and is used more commonly internationally due to its availability and relatively low material cost. HDPE pond liner is an excellent geomembrane product for large dam applications that require UV and ozone resistance, chemical resistance or high quality installations. The HDPE smooth geomembrane is delivered in large rolls and may be heat welded in the field by trained technicians. HDPE dam liner has been used in landfills, wastewater treatment lagoons, animal waste lagoons, mining applications and for water storage.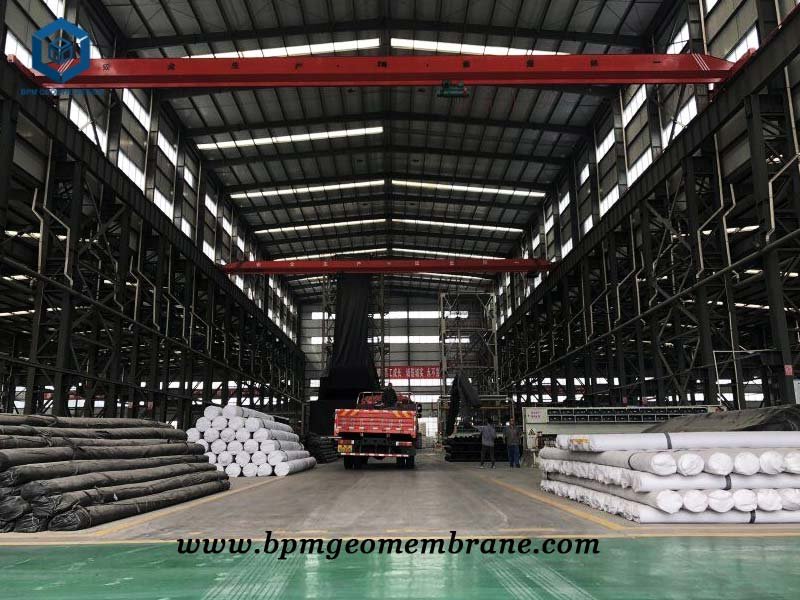 In the world today, there is a big shortage of potable water for domestic use as well as agricultural water for irrigation and this has led to much suffering for many people in the world. The most important factor that undermines the availability of water is the prohibitive cost of water storage structures. In systems that depend on rainwater harvesting for example, water security and availability lies squarely on how much water one can store. As the commencement of the rains is unpredictable, it is therefore important for water users to collect as much water as they can during these short rainy seasons and store it for use in times when there is no rainfall.
Our Vietnam customer sent us an inquiry on HDPE dam liner for dam construction project. We decided to use 0.8mm HDPE dam liner for dam project by our negotiation. The Vietnam customer was satisfied with BPM HDPE dam liner production process, raw materials and product quality. In addition, we quoted them very competitive price. Finally, he signed the supply contract and construction service agreement. Soon afterwards, our company sent a professional HDPE dam liner welding technician to the site to assist in welding. Finally, he confirmed the quality of our lake liner, then he signed order with us.
Specifications of HDPE Dam Liner for Dam Construction Project in Vietnam
Total quantity – 26970m2
Thickness – 0.8 mm
Each roll size –5.8m×150m
One 20GP container
About BPM 
BPM had provided many types of effective and state of the artgeomembrane, geotextile, and geosythetics products to over 36 countries. Our main innovative, high quality geosynthetics products include geomembranes, geotextiles, geocell, geosynthetic clay liners (GCLs), drainage boards, geogrids, etc. BPM brand geosynthetics had been certificated by the ISO9001, ISO14001,OHSAS18001 Soncap, SASO and BV certificates and passed the test of SGS and Intertek, etc.
BPM is also providing professional design and installation service. OEM and ODM are also available. If you have any questions or inquiries,  please fill and submit the following form, we will reply as soon as possible.