Black HDPE liner sheet is the widely used anti-seepage geosynthetic product for water and solid containment. BPM is black HDPE liner sheet is made from high grade polyethylene raw material, adding carbon black, antioxidant, anti-aging and UV resistance component. Our HDPE liner sheet adopts the first class automatic production equipment and three-layer extruding technology. All HDPE geomembrane are produced according with GRI GM13 test standard. BPM HDPE geomembrane liner products including smooth geomembrane HDPE liner, textured HDPE geommebrane and composite HDPE geomembrane liner, they are widely used across a variety of industries including waste containment, water containment, aquaculture, industrial project, energy project and mining project, etc.
Sea salt production uses seawater as a raw material to carry out beach salt or underground brine to make salt. However, the salt needs a large area of salt fields. How to increase the output of salt flats under the same conditions to increase the income of salt farmers? HDPE liner sheet is the ideal geotechnical material for salt water containment and salt production. The bottom and side salt pool is installed and laid with black HDPE liner sheet, the daily salt production can be more than double before the HDPE anti-seepage film is not installed when the weather is fine. Under normal circumstances, the original salt production efficiency can be increased by 50-70%.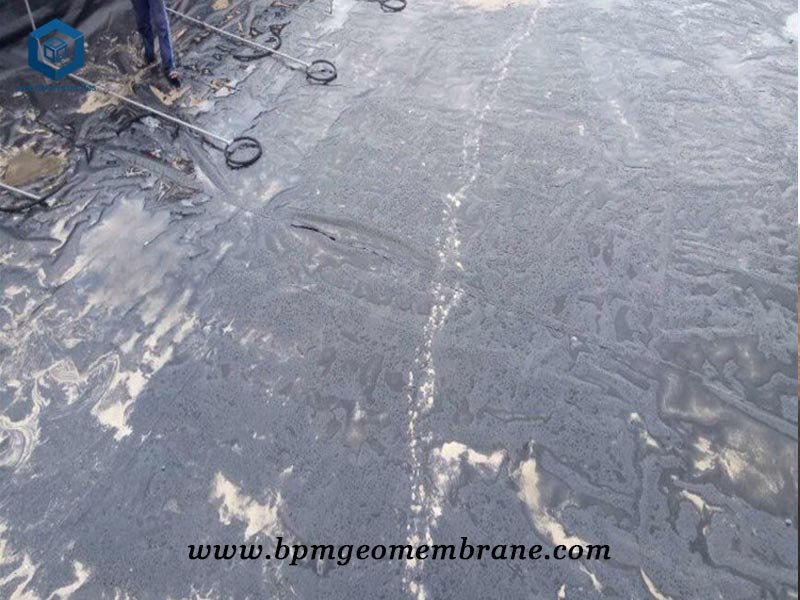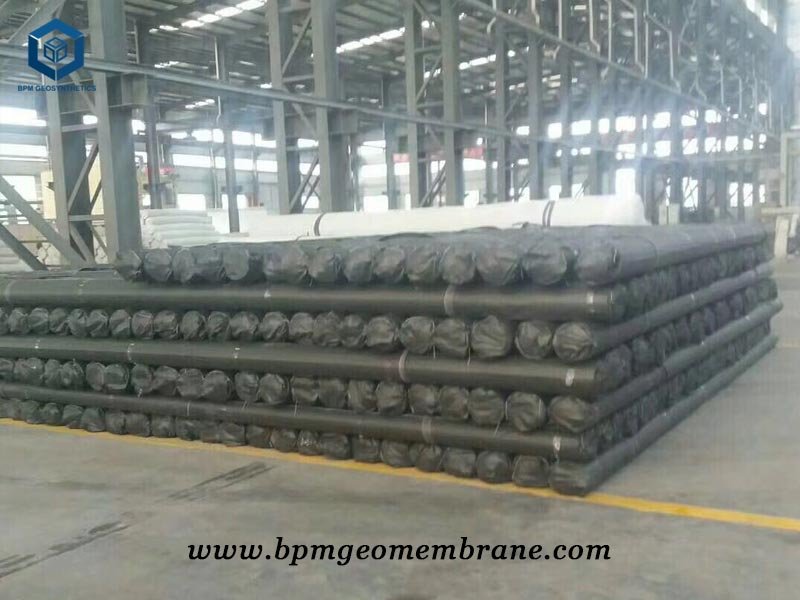 BPM black HDPE liner sheet has high wear resistance and light absorption performance. It absorbs and converts natural sunlight into heat effectively and efficiently. Accelerate the evaporation rate of water, increase the crystallization separation speed of salt, and greatly increase the salt production per unit area. The product quality is safe and environmentally friendly, ensuring the non-toxic and safe performance of the finished salt. After using anti seepage HDPE liner sheet as the salt pool for anti-seepage isolation, it is beneficial to keep the salt cleanliness and reduce the impurity components, and the sales unit price is high. After the HDPE liner sheet is used as the salt pool for anti-seepage separation, it is beneficial to collect the crystal salt and increase the yield. The HDPE geomembrane liner has high strength and wear resistance, high investment and high return rate, and has good economic benefits for saving land use area of the salt field.
Our Indonesia customer got a salt pond project. He placed the order for BPM HDPE liner sheet due to the following reasons.
Good wear resistance and heat absorption performance.

Easily convert the sunshine heat into heat energy and hasten the water evaporation, improve salt separation and

 

productivity.

Non-toxic performance which can ensure the salt food grade.

Professional installation guide.

High quality, according with GRI GM13 test standard;

Competitive factory price.
Specifications of
Black HDPE Liner Sheet for Salt Pond Lining Project in Indonesia
Total HDPE liner sheet quantity – 15000 m

2

Each roll size 7m*100m

Black HDPE liner sheet thickness – 1.0mm
About BPM 
BPM is the professional geosynthetics manufacturer and exporter. Our main innovative, high quality geosynthetic products include geomembranes, geotextile, geocells, geosynthetic clay liners (GCLs), drainage boards, geogrids, etc. BPM brand geosynthetic product had been certificated by the ISO9001, ISO14001, OHSAS18001 Soncap, SASO and BV certificates and passed the test of SGS and Intertek, etc. Our geosynthetic products have exported to over 36 countries.
BPM is also providing professional geomembrane design and installation service. OEM and ODM are also available. If you have any questions or inquiries,  please fill and submit the following form, we will reply as soon as possible.