HDPE Membrane is the low permeable synthetic membrane liner and geotechnical engineering materials which is widely used for solid waste containment, mining and water containment applications.  BPM smooth HDPE membrane liner is made of finest quality high density polyethylene (HDPE) with specially formulated, virgin polyethylene resin, combined with specified quantity carbon black, antioxidant, anti-aging agent and UV resistance components, which makes our smooth HDPE geomembrane liner with excellent resistance to UV radiation and is suitable for exposed conditions.
As a waterproofing liner, HDPE membrane is favored over other materials for its modest economic and operational advantage. Economically, HDPE membrane is superior thanks to its relatively straightforward manufacturing process, which has driven up supply and kept prices low in contrast to other kinds of geomembranes.
Furthermore, hdpe geomembrane is a very stable polyolefin that is chemically inert and able to maintain long-term integrity and durability. These properties make the HDPE membrane a popular choice to waterproof and mining, landfill and other containment applications.
Our Mongolia customer sent us inquiry of HDPE geomembrane for his mining waste containment project. We provided him more details of mining project design. Then he decided to visit our factory and discussed about his mining project in detail. 
HDPE Membrane Mining Project Specifications
The mining project size – 58m*103m

Height – 18m

Total smooth geomembrane quantity – 13066m

2

Geomembrane thickness – 1.5mm 

Each roll size – 7m*100m

Designer and welding engineer are included for the project
After more than 2 two month, we finished this project together.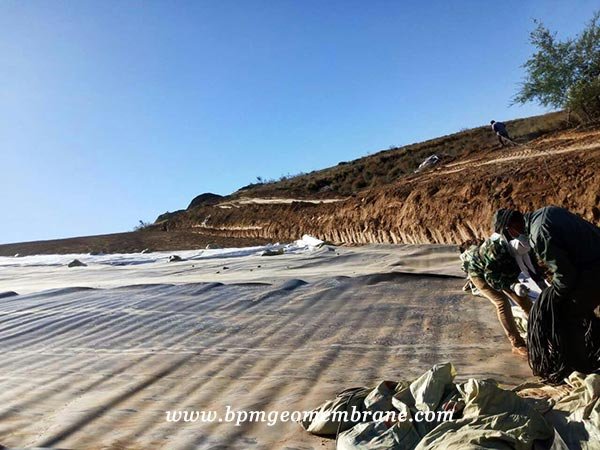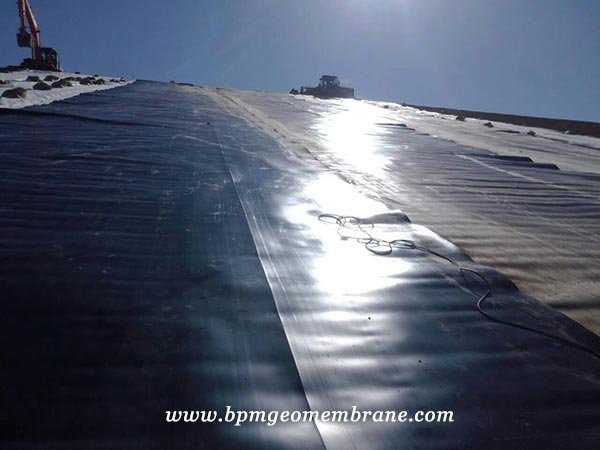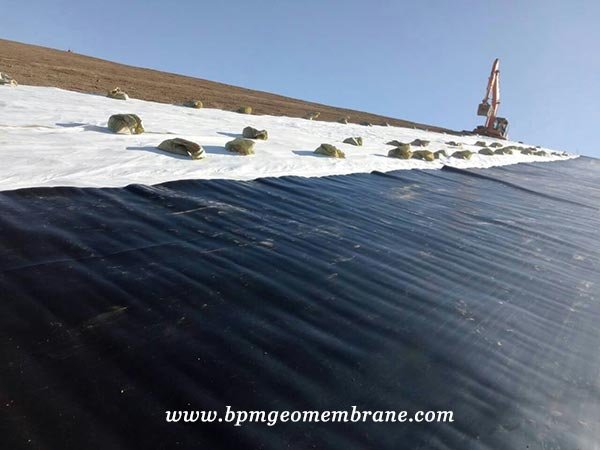 BPM HDPE geomembrane liner had been passed third party testing and got GAI-LAP testing report.  There are more than 12 customers use our smooth geomembrane for mining projects. 
About BPM
BPM had provided many types of effective and states of the art geomembranes and other geosynthetics to over 36 countries. Our main customers are from Australia, France, Sweden, UK, Hong Kong, Hungary, New Zealand, Poland, Mexico, Ecuador, Brazil, Pakistan, Bangladesh, Thailand, Vietnam, Malaysia, Indonesia, Singapore, Philippines, Sri Lanka, India, UAE, Saudi Arabia, Qatar, Kenya, Ghana, Ethiopia, Somalia, Nigeria, South Africa, Swaziland, Mongolia etc.
BPM is not only manufacturing best quality geomembrane products but also providing professional design and installation service. OEM, ODM, custom development and fabrication are also available. If you have any questions or inquiries,  please fill and submit the following form, we will reply as soon as possible.