HDPE Smooth Geomembrane is the low permeable synthetic membrane liner and geotechnical engineering materials which is widely used for landfills and waste containment. HDPE smooth geomembrane is the critical part of the whole landfill waterproofing system. If the landfill liner part fail, then all project will fail. Some important landfill liner projects even have two waterproofing system to avoid this failure. So the product quality inspection before installation for the landfill liner becomes a necessary process.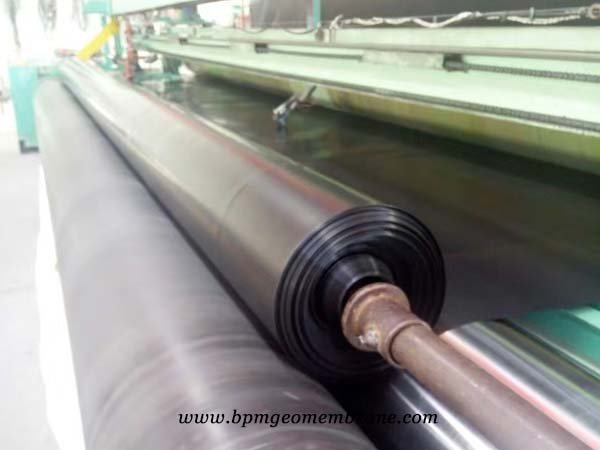 Our Indonesia client wanted to buy BPM brand HDPE smooth geomembrane for large landfill liners project, BPM sent the sample from current landfill liner order to USA. TRI/Environmental USA is one of GAI-LAP member for geomembrane testing. In first month, they finished the basic physical properties testing. And after 3 months, BPM got the report. Because the oven aging, high pressure OIT should take about 3 month to finish testing. This is the most important part for the geomembrane properties.
Finally BPM 1.5mm HDPE smooth Geomembrane landfill liner testing report was approved by the Geosynthetic Accreditation Institute-Laboratory Accreditation Program (GAI-LAP). BPM HDPE landfill liner all testing value is much higher than the GM13 standard. Some even higher about 40%. We believe our products can meet your project requirements.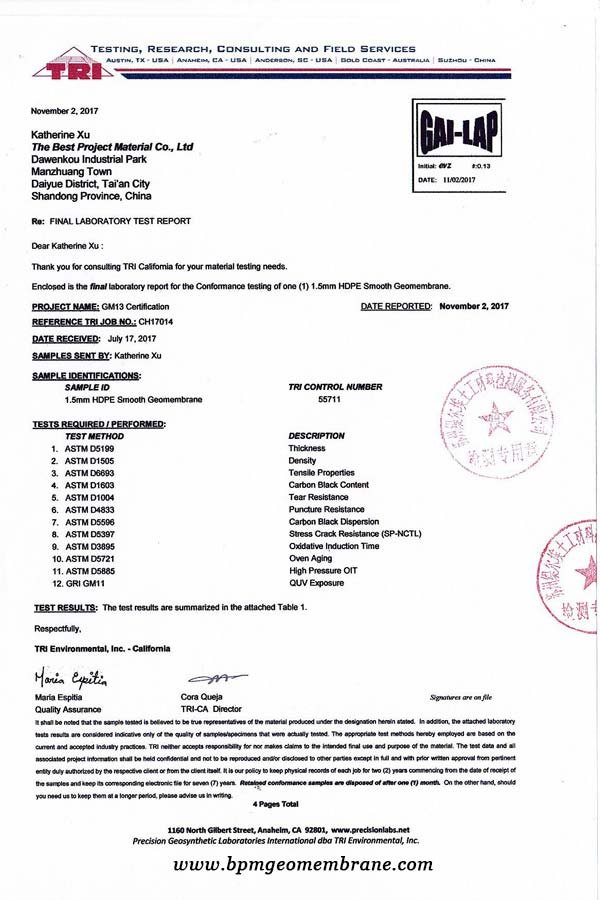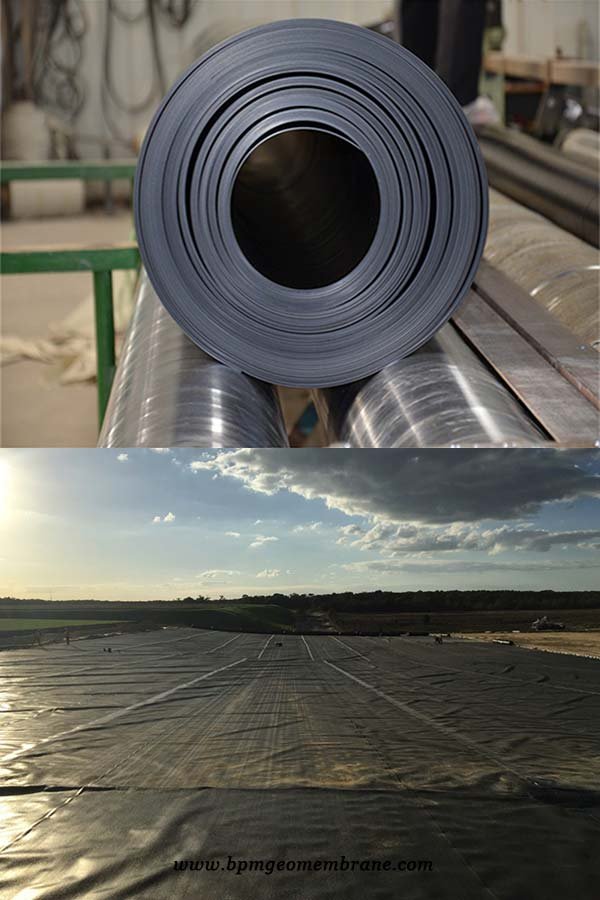 Finally, BPM successfully got the HDPE smooth geomembrane order with 10,0000m2 geomembrane HDPE liner.  And the construction of the landfill solved the local waste treatment problem. Our customer also ordered geotextile and geocomposite from us. These geosynthetics and geomembrane products formed a complete waterproofing, leaking, filtration system in landfill project.
About BPM
BPM had provided many types of effective and states of the art geomembranes and other geosynthetics to over 36 countries. Our main customers are from Australia, France, Sweden, UK, Hong Kong, Hungary, New Zealand, Poland, Mexico, Ecuador, Brazil, Pakistan, Bangladesh, Thailand, Vietnam, Malaysia, Indonesia, Singapore, Philippines, Sri Lanka, India, UAE, Saudi Arabia, Qatar, Kenya, Ghana, Ethiopia, Somalia, Nigeria, South Africa, Swaziland, Mongolia etc.
BPM is not only manufacturing best quality geomembrane products but also providing professional design and installation service. OEM, ODM, custom development and fabrication are also available. If you have any questions or inquiries,  please fill and submit the following form, we will reply as soon as possible.