PE pond liner is the low permeable synthetic membrane liner and geotechnical engineering material which is widely used for solid waste containment, mining and water containment applications. PE pond liner is also called smooth geomembrane HDPE liner which is made of specially formulated high density polyethylene (HDPE) resin combined with specified quantity carbon black, antioxidant, anti-aging agent and UV resistance components. BPM brand PE pond liner is the excellent geosynthetic material for fish pond water containment because it features lowest permeability, high tensile strength and excellent chemical resistance, outstanding stress crack capacity and friendly to fish. Compared with traditional concrete, asphalt and compacted clay, PE geomembrane liner has been proven to be far more cost effective, chemically resistant, fast deployment, easy transportation and suitable for exposed condition. Our PE pond liner can seamless fit into the fish farm environment to create a more natural look.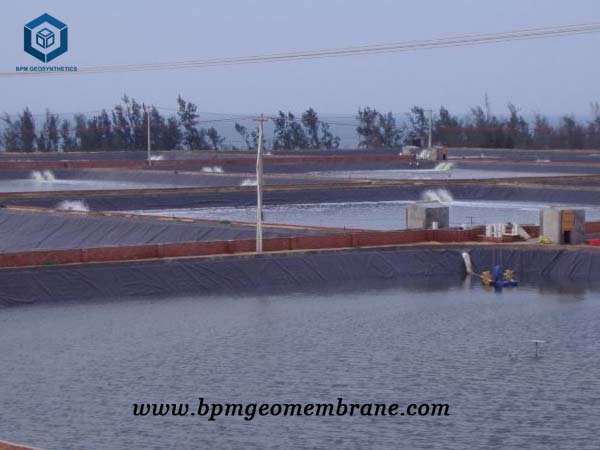 BPM high quality PE pond liner is the kind of geomembrane lining material specially designed and fabricated with enforces mesh to decrease contamination and ensure the overall health of aquaculture such as fish or shrimp.
Our Philippines customer sent us an inquiry about the fish pond project in 2017. The fish pond farming project covered 200 acres which was constructed 10 standard fish ponds. We recommended that the PE pond liner might be cost-effective for the project, meanwhile, we sent him the PE pond liner samples. Finally, he confirmed the quality of our PE pond liner products, then he signed order contract with us. All our PE pond liner for fish farm project were delivered in time. BPM construction term has professional engineers with years of hands-on-experience and the very careful working attitude to make sure the projects is prefect.
Specifications of PE Pond Liner for Fish Farm Project
• Thickness – 0.5mm
• Specification – 6m×100m
• Total quantity – 150,000 m2
About BPM
BPM had provided many types of effective and state of the art geotextile, geomembrane and geosythetics products to over 36 countries. Our main innovative, high quality geosynthetics products include geomembranes, geotextiles, geocell, geosynthetic clay liners (GCLs), drainage boards, geogrids, etc. BPM brand geosynthetics had been certificated by the ISO9001, ISO14001,OHSAS18001 Soncap, SASO and BV certificates and passed the test of SGS and Intertek, etc.
BPM is also providing professional design and installation service. OEM and ODM are also available. If you have any questions or inquiries,  please fill and submit the following form, we will reply as soon as possible.