Pond Liner is widely used for aquaculture and water containment to protect water seepage due to its features of lowest permeability, excellent anti-seepage and ultra stress crack capacity. As the leading geomembrane manufacturer, wholesaler and exporter, BPM has been dedicated in supplying one stop geomembrane products and services to worldwide customers for over 7 years. AquaSG'17 is a true industry forum and platform with topical and regionally relevant conference and workshop session, tailored to facilitate networking, foster learning and provoke conversations. It is also an ideal place to learn, discuss, exchange, and connect. BPM participated in the Singapore Aqua SG'17 Exhibition and showed our competitive pond liner solutions during October 3rd~8th,2017, which was for every area of profession expertise in aquaculture.
People who run aquaculture business

Farmers & Entrepreneurs

Researchers & Scholars

Investors

Feed manufacturer

Government and environment agencies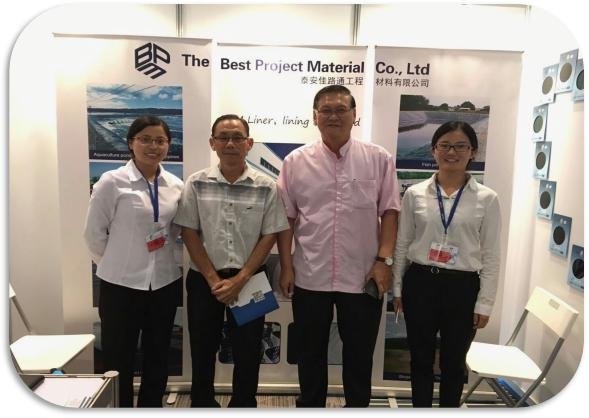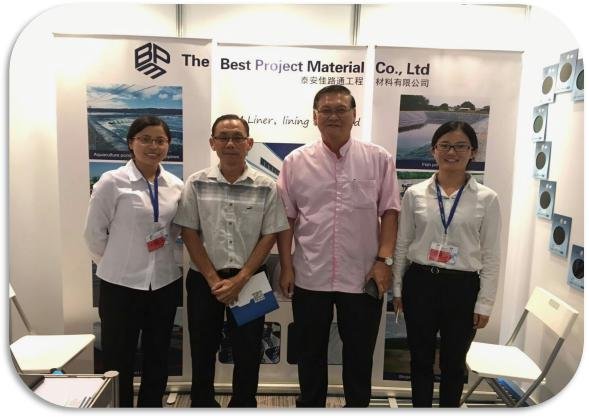 Applying hdpe pond liner to fish and shrimp farming is a new way for aquaculture. It's easy to manage and rich water with low total cost. How do we choose the geomembrane HDPE liner for aquaculture?
The thickness of the aquaculture liner is generally between 0.3-0.5mm, farmers can choose it based on their own products. If you farm fish or shrimp, 0.5mm thickness is ok.But if you breed turtle, then need hdpe geomembrane that is more than 1.5mm.
We suggest that hdpe liner of virgin material for aquaculture. It is safer than recycled material and has stable product performance which is adaptable for those aquatic products sensitive to environment.
BPM hdpe geomebrane liners made from HDPE, LDPE, LLDPE, PVC,EVA are the preferred products for lining projects requiring low permeability, corrosion protection, exceptional chemical and ultraviolet resistance properties, which makes them extremely cost-effective for many applications such as waste containment, water containment, aquaculture, energy, industrial and mining projects.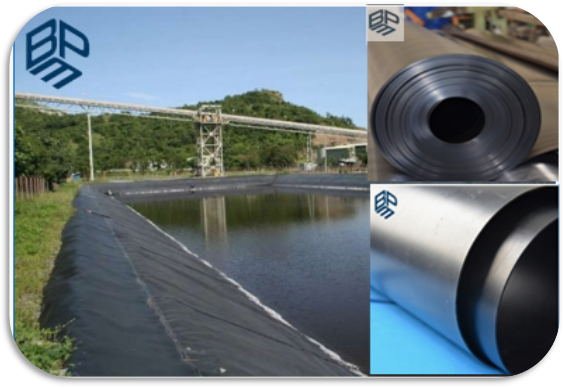 BPM geomembrane liner has such features of good mechanical properties, high tear strength, deformation and adaptable, puncture resistance, anti-aging, anti-ultraviolet-resistant, Anti oil and salt, pH, anti-corrosion, high temperature-resistant, non-toxic, long service life. water, drainage, seepage, the good effect of moisture, width, thickness of the full range of specifications and low cost, simple construction.
We professionally design fabricate and install hdpe pond liner in various projects such fish and shrimp farms, our products are widely recognized in the USA, Mexico,Southeast Asia,the Middle East Africa and other regions all over the world. 
About BPM
BPM had provided many types of effective and states of the art geomembranes and other geosynthetics to over 36 countries. Our main customers are from Australia, France, Sweden, UK, Hong Kong, Hungary, New Zealand, Poland, Mexico, Ecuador, Brazil, Pakistan, Bangladesh, Thailand, Vietnam, Malaysia, Indonesia, Singapore, Philippines, Sri Lanka, India, UAE, Saudi Arabia, Qatar, Kenya, Ghana, Ethiopia, Somalia, Nigeria, South Africa, Swaziland, Mongolia etc.
BPM is not only manufacturing best quality geomembrane products but also providing professional design and installation service. OEM, ODM, custom development and fabrication are also available. If you have any questions or inquiries,  please fill and submit the following form, we will reply as soon as possible.