Pond lining sheets are the low permeable geosynthetic membrane liners and geotechnical engineering materials which are widely used for aquaculture pond, solid waste containment, mining and water containment applications. BPM pond lining sheets are made of finest quality high density polyethylene (HDPE) with specially formulated, virgin polyethylene resin, combined with specified quantity carbon black, antioxidant, anti-aging agent and UV resistance components. BPM extremely low permeable pond lining sheets are specially reinforced HDPE pond liner with superior UV rays, hydrostatic and elevated temperature resistance, which make BPM pond lining sheets as ideal products and friendly for aquaculture and agriculture applications.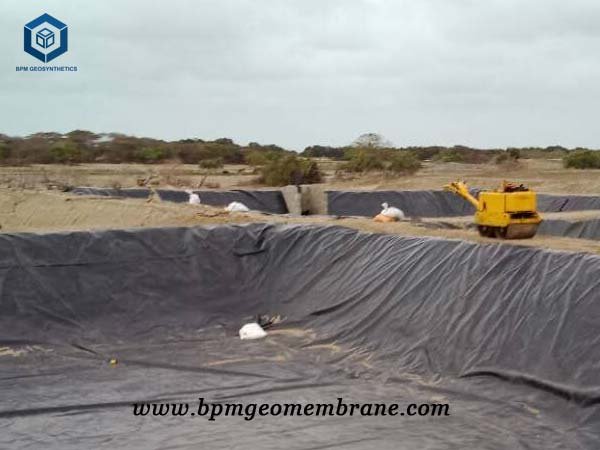 Our Sri Lanka customer sent us an inquiry about the pond lining sheets for shrimp pond project in May, 2018. They got our information of our pond lining sheets from our www.bpmgeomembrane.com website. After he asked us for information about the HDPE geomembrane used as padded shrimp, we recommended BPM pond liner fabric which has lowest permeability, high tensile strength and excellent chemical resistance. In addition, BPM HDPE pond liner also has light weight for easy transportation and installation and cost effective, longer serve life. Our Sri Lanka customer had a fancy for this product so he placed an order with us for it.
Specifications of pond lining sheets for shrimp pond project Sri Lanka
Total quantity – 100000 m2
Specification – 7m

×

420m
Thickness-0.5mm
Two 40HQ containers
About BPM
BPM had provided many types of effective and state of the art geotextile, geomembrane and geosythetics products to over 36 countries. Our main innovative, high quality geosynthetics products include geomembranes, geotextiles, geocell, geosynthetic clay liners (GCLs), drainage boards, geogrids, etc. BPM brand geosynthetics had been certificated by the ISO9001, ISO14001,OHSAS18001 Soncap, SASO and BV certificates and passed the test of SGS and Intertek, etc.
BPM is also providing professional design and installation service. OEM and ODM are also available. If you have any questions or inquiries,  please fill and submit the following form, we will reply as soon as possible.