PVC geomembrane liner is a kind of impermeable geomembrane liner, which is widely used in the modern municipal solid waste containment system. PVC is an abbreviation for Poly Vinyl Chloride. PVC geomembrane liner is often installed in the side and bottom of the solid waste containment system to inhibit flow of leachates and thus prevent the contamination of groundwater. Manufactured by the calendaring or extrusion process, BPM PVC geomembrane liner has excellent chemical resistance, excellent UV resistance, high puncture strength and excellent abrasion resistance. PVC geomembrane liner is resistant to a number of industrial chemical material. Compared with traditional concrete, asphalt and compacted clay, PVC geomembrane liner has proven to be far more cost effective, environmentally safe, excellent durable, chemically resistant, fast deployment and easy transportation.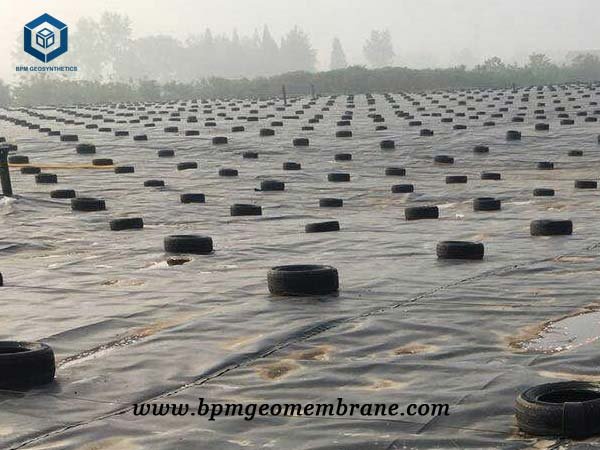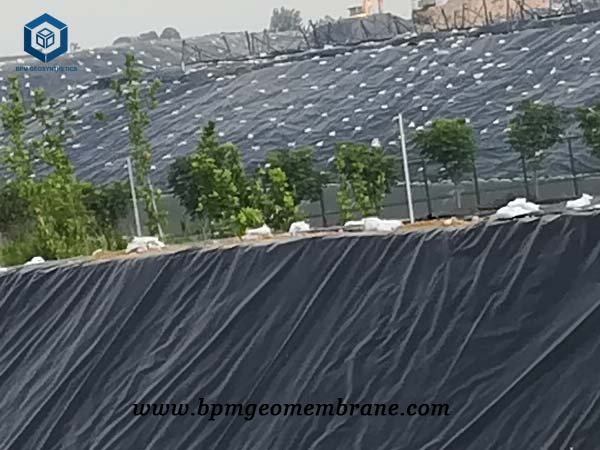 As part of the cover liner, PVC geomembrane liner stop infiltration and serve to control the gas following the closure of landfills. PVC geomembranes are increasingly used in the landfill liner systems because they can tolerate large deformation. The use of a PVC geomembrane liner prevents contaminants from entering groundwater sources or streams. In addition, it conserves potable water resources by preventing seepage.
Our Bangladesh customer apply PVC geomembrane liner for waste containment project May, 2017. The Bangladesh customer was satisfied with BPM PVC membrane liner production process, raw materials and product quality. In addition, we quoted them very competitive price. Finally, he signed the supply contract and construction service agreement. Soon afterwards, our company sent a professional PVC geomembrane liner welding technician to the site to assist in welding. Finally, he confirmed the quality of our lake liner, then he signed order with us.
Specifications of PVC Geomembrane Liner for Waste Containment in Bangladesh
• Each roll size – 6m×50m
• Total quantity – 66,000 m2
• Construction period – one month
About BPM
BPM had provided many types of effective and state of the art geotextile, geomembrane and geosythetics products to over 36 countries. Our main innovative, high quality geosynthetics products include geomembranes, geotextiles, geocell, geosynthetic clay liners (GCLs), drainage boards, geogrids, etc. BPM brand geosynthetics had been certificated by the ISO9001, ISO14001,OHSAS18001 Soncap, SASO and BV certificates and passed the test of SGS and Intertek, etc.
BPM is also providing professional design and installation service. OEM and ODM are also available. If you have any questions or inquiries,  please fill and submit the following form, we will reply as soon as possible.