Textured geomembrane, also called textured HDPE geomembrane,  is an impermeable membrane essentially used with foundation, soil, rock earth or any other geotechnical engineering-related material as an integral part of a man-made project, structure or system. The most common type of textured geomembrane used in sewage pond facilities is made from high density polyethylene mixed with carbon black, anti-aging agent, anti-oxygen agent, UV absorber, stabilizer and other auxiliary materials. BPM Brand high-density textured geomembrane has been proven to be far more cost effective, chemically resistant, fast deployment, easy transportation and suitable for exposed condition, so the textured geomembrane material is the excellent geosynthetic material for sewage containment because our textured HDPE geomembrane features impermeability, high tensile strength, excellent chemical resistance and outstanding stress crack capacity.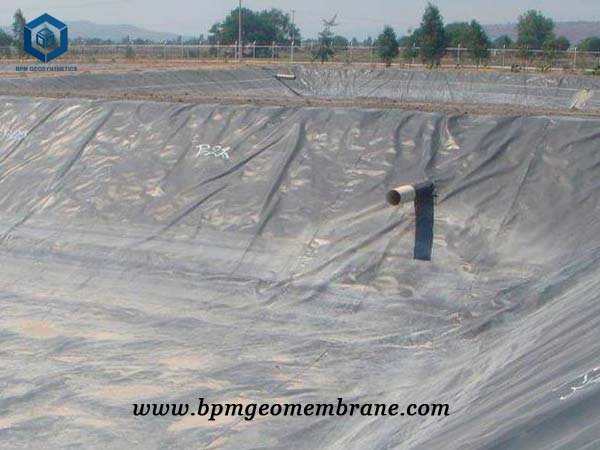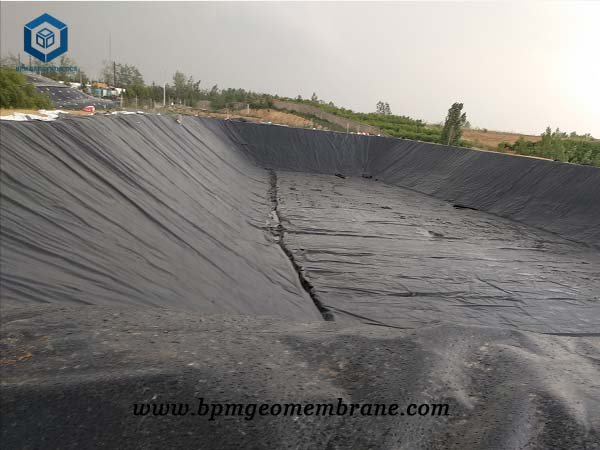 As the growing attention to the environment, the governments of all over the world have more and more stringent requirements for the discharge of sewage from chemical sewage and the reuse of water resources. The water of the chemical sewage pool contains mainly acid and alkali, toxic and harmful substances, and the temperature changes in the process of water treatment, so the seepage prevention of the pool in the process of storage is required.
Our Cameroon customer inquired textured geomembrane for the sewage treatment project in March, 2018. According to the Cameroon environmental quality standard, the sewage treatment pool Stress Crack Resistance is 500 hours, we provided the Cameroon customers with the GRI GM 13 standard 2 mm geomembrane. He wanted to use the 2mm geomembrane and 300g/ geotextile for the sewage treatment plant. We have given our customer a positive reply and detailed introduction on how to use and how to install the textured geomembrane. More importantly, we sent professional technicians to assist the installation. After communication and negotiation, finally, he confirmed the quality of our textured geomembrane, then he signed order contract with us.
Specifications of Textured Geomembrane for Sewage Treatment Pool in Carmeroon
• Total quantity – 6,000 m2
• Specification –300 g/m2
• Thickness – 2mm
About BPM
BPM had provided many types of effective and state of the art geotextile, geomembrane and geosythetics products to over 36 countries. Our main innovative, high quality geosynthetics products include geomembranes, geotextiles, geocell, geosynthetic clay liners (GCLs), drainage boards, geogrids, etc. BPM brand geosynthetics had been certificated by the ISO9001, ISO14001,OHSAS18001 Soncap, SASO and BV certificates and passed the test of SGS and Intertek, etc.
BPM is also providing professional design and installation service. OEM and ODM are also available. If you have any questions or inquiries,  please fill and submit the following form, we will reply as soon as possible.