What is geomembrane? Geomembrane is often included as the impermeable part of the engineered barrier system for modern projects, which is widely used across a variety of industries including waste, water, aquaculture, mining, power plant, industrial and civil engineering, etc. BPM brand geomembrane products are made of finest quality high-density polyethylene (HDPE) with specially formulated, virgin polyethylene resin by the state of the art automatic production lines and advanced pressing. Our geomembrane products include Smooth Geomembrane HDPE Liner, Textured HDPE Geomembrane and  Composite Geomembrane Liner, etc.
What is geomembrane Categories?
As defined, a geomembrane is an essentially impermeable membrane used with foundation, soil, rock earth or any other geotechnical engineering-related material as an integral part of a man-made project, structure or system. There are various types of geomembranes including polyvinyl chloride (PVC), chlorinated polyethylene (CPE), chlorosulphonated polyethylene (CSPE), ethylene propylene rubber (EPDM), polypropylene (PP), linear low-density polyethylene (LLDPE), medium-density polyethylene (MDPE), etc. It is important to note the so-called HDPE geomembrane that is the most common type of geomembrane used in facilities.
Following is the brief introduction of the three main types of geomembrane products, smooth geomembrane, textured HDPE geomembrane and composite geomembrane liner.
1. Smooth geomembrane. This kind of geomembrane is typically made of finest quality high density polyethylene (HDPE) with specially formulated, virgin polyethylene resin, combined with specified quantity carbon black, antioxidant, anti-aging agent and UV resistance components. It can be used for canal, aquaculture, irrigation ponds and remediation liners, other liner applications include landfills, waste water treatment lagoons, oil and gas exploration, power plants, etc al. BPM smooth geomembrane HDPE linere is engineered and fabricated by the state of the art automatic geomembrane production lines and advanced three layered pressing technology in accordance with GRI GM13 standard.
2.Textured HDPE geomembrane. In general, HPDE geomembranes consist of 96–97.5% of polyethylene resin, 2–3% of carbon black and 0.5–1.0% of other additives such as antioxidants and stabilizers. Polyethylene is a high molecular polymer, non-toxic, odorless and odorless white particles, its melting point is about 110 °C -130 °C, its relative density 0.918-0.965. HDPE geomembrane is specially designed and fabricated for many applications due to its advanced stabilization, excellent interface friction coefficient and inherent flexibility. BPM HDPE geomembranes have been widely in backfilled liner, retaining backfill on steep side, heap leach pads, landfill protection applications such as dam, reservoirs, sewage pools, swimming pools, buildings, underground buildings, garbage dumps and mining projects. HDPE geomembrane designed and fabricated with either single-sided or double-sided textured surface is called Textured HDPE Geomembrane. Textured HDPE Geomembrane has a rough surface which can highly improve the friction coefficient which fits more suitable for steep slope and vertical engineering design work which maximize the effective volume of geomembrane, they are also proceed with smooth edges to allow for high quality thermal fusion welding between adjacent sheets.
3. Composite geomembrane liner. Composite geomembrane liner is made by heat-bonding nonwoven or woven geotextile to HDPE geomembrane by calendaring processing technology. BPM composite geomembrane liner provides the advantages of both geomembrane and geotextile, which is made of specially formulated HDPE resin combined with specified quantity carbon black, anti-aging agent and UV resistance components. The geotextile layer increases essential tensile strength and the geomembranes provides excellent impermeable, leak and moisture proof. Compared with traditional concrete, asphalt and compacted clay, composite geomembrane liner has proven to be far more cost effective, environmentally safe, excellent durable, chemically resistant, fast deployment and easy transportation. Composite geomembraneliner is mainly used in water dams, artificial lakes, airports, construction, environmental protection, water containment and other projects.
The selection of a geomembrane liner depends upon the application in which it will be used. High-density polyethylene (HDPE) geomembranes have been used exclusively in landfill applications, especially for bottom liners, because of their relatively high resistance to aggressive leachate components.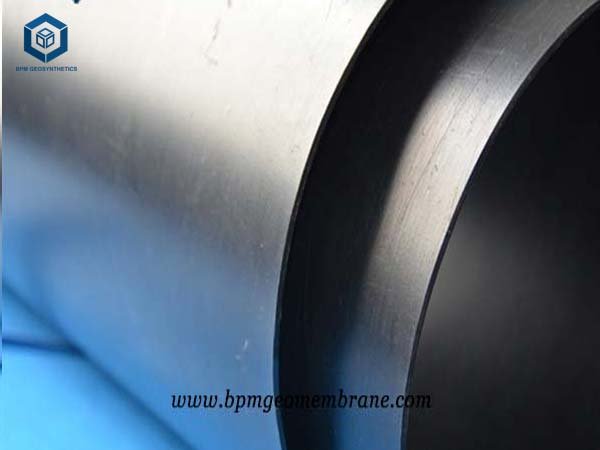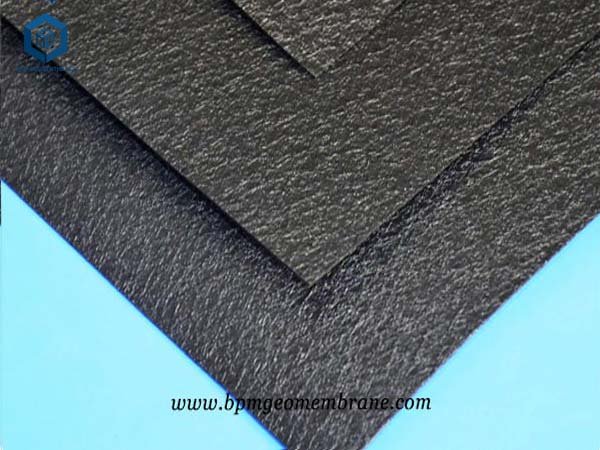 What is geomembrane functions?
Geomembrane has the function of seperation, drainage, reinforcement and protection, etc.
Separation. Separate building material (soil and sand, soil and concrete, etc) with different physical properties, such as particle size, distribution, consistency and density, etc.
Drainage. It can form a drainage channel inside the soil and remove excess liquid or gas from the soil structure.
Reinforcement. The HDPE liner can be used to enhance the tensile strength and resistance to deformation ability of soil, meanwhile, to improve the stability of the building structure and soil quality.
Protection. It can effectively diffuse, transfer or decompose the concentrated stress to prevent the soil from being destroyed by external forces, when the water scouring the soil.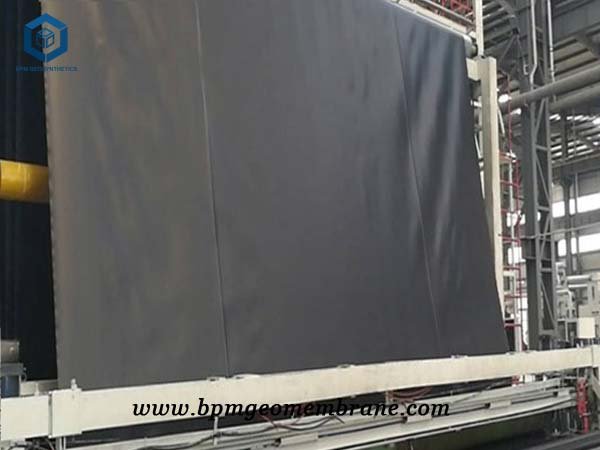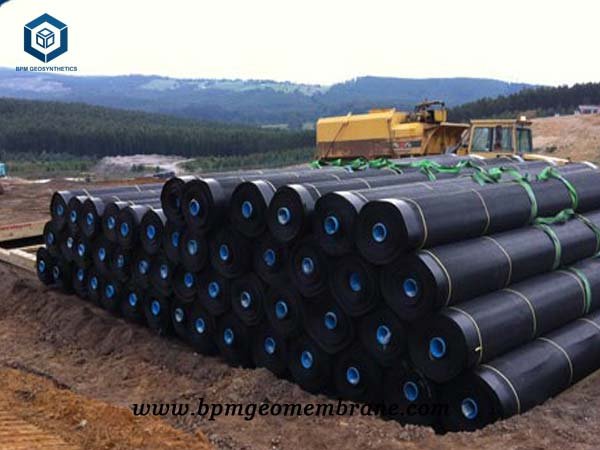 What is geomembrane applications?
The geomembrane produced by BPM is typically made from high grade polyethylene raw material, adding carbon black, antioxidant, anti-aging and UV resistance component. Geomembrane has the function of seperation, drainage, reinforcement and protection, etc. So geomembrane and related products have many applications including roads, airfields, railroads, embankments, retaining structures, reservoirs, canals, dams, bank protection, coastal engineering.
Although quite subjective, one can view current geomembrane application areas in three categories: transportation related, environmental related, and geotechnical related. Each category has a number of specific applications.
(1)Transportation Related
• Railroad cut beneath the water table
• Tunnel moisture – proofing
• Subgrade moisture – proofing
• Prevention of soil expansion or contraction
• Prevention of frost heave
• Prevention of karst sinkhole formation
• Maintain water content for friable soils
• maintain water content for expansive s o i ls
• Secondary containment systems
• waterproofing systems
(2)Environmental Related
• Liquid Containment for: reservoir liner and cover, underground storage tank liners
• Solid Containment for: landfill liners and covers, heap leach pads, pond liners
• Vapor Containment for: moisture barriers, hydrocarbon barriers, methane barriers
(3)Geotechnical Related
• Liners for earth and earth/rock dams
• Liners for concrete dams
• Liners for masonry dams
• Portable dams
• Inflatable dams
• increase spillway capacity
• Liners for seepage control
• Canal liners
• Water diversion systems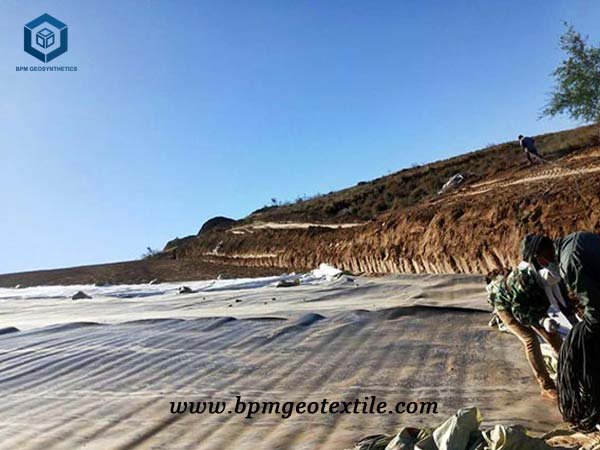 With an ever increasing worldwide population growth, water supplies will become more scarcely and require storage reservoir and surface impoundment liners. Similarly, canal liners for the transportation of t h is water to areas of primary use is an important applications. Recent concerns of potable water reservoir pollution from the atmosphere has ushered in the concept of floating geomembrane covers. With industrialization on a worldwide basis comes the necessity of canal liners to transport chemicals and waste waters. The application here is among the most demanding of all geomembrane applications. Therefore, the development of geomembrane liner is very fast, and has become the main component of geomembrane liner. If you are interested in our geomembrane and geotextile products, welcome to visit our factory for detailed introduction and cooperation.
About BPM
BPM had provided many types of effective and state of the art geotextile, geomembrane and geosythetics products to over 36 countries. Our main innovative, high quality geosynthetics products include geomembranes, geotextiles, geocell, geosynthetic clay liners (GCLs), drainage boards, geogrids, etc. BPM brand PET geosynthetics had been certificated by the ISO9001, ISO14001,OHSAS18001 Soncap, SASO and BV certificates and passed the test of SGS and Intertek, etc.
BPM is also providing professional design and installation service. OEM and ODM are also available. If you have any questions or inquiries,  please fill and submit the following form, we will reply as soon as possible.